Basic Pre-Ride Inspection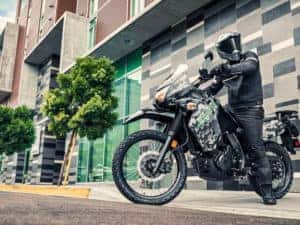 Many drivers take the reliable functionality of an automobile for granted. A car seems to perform just fine despite minor mechanical flaws. However, when riding a motorcycle, you can't make this same mistake. Even one damaged component, leaking fluid, or busted light can have dangerous consequences on the road. Because of its minimal design, your Kawasaki or Yamaha needs to be in top running condition in order to operate safely on the road. Not to mention, if you ignore a small problem for even a couple weeks, it could turn into a costly repair, or even put your motorcycle out of commission. Because of these considerations, you'll need to make sure you perform a simple inspection before every ride.
This guide from Lucky Penny Cycles will list some of the most important parts to check out before hitting the road. Each task is easy to do yourself, but if you encounter more complicated technical issues, don't hesitate to bring your bike into our dealership. We're in Bedford, TX, and proudly serve riders from Dallas, Fort Worth, Waco, Wichita Falls, Sherman, and Tyler, Texas.
Take a Look at the Tires
The fact that a motorcycle has only two wheels has serious implications. While blowouts on a car might be manageable on the highway, if your motorcycle tire goes out at high speeds, controlling that bike with only one good tire even to get off the road will prove extremely difficult. This could cause a serious accident, so you need to make sure you inspect both tires before you leave your driveway. We recommend getting a tire pressure gauge, as these are cheap, easy to use, and let you check the pressure every day in a matter of seconds. When you notice the pressure levels getting low, get to the nearest gas station and fill them back up to the manufacturer's designated level. Also look for any damage. If there are punctures, tears, or the tread is worn down, you should bring your bike into our dealership to repair or possibly replace the damaged tire.
Fluid Levels and Quality
Next, take a look at the engine fluids. When you first walk out to your bike, check the ground for any puddling liquids. If there's a leak, that could be a serious problem that needs fixing immediately. But if everything looks good, simply check your oil as usual and make sure the levels and quality are right. Make sure to top it off when the oil or coolant start running low and bring it in for an oil change if it looks too dark or sludgy.
Performance Components
Finally, the brakes, clutch, and throttle are all essential for performance on your Kawasaki or Yamaha. Not only do faulty components hinder the performance, but they can also lead to hazardous situations on the road. Test out the throttle first, making sure that it turns smoothly and responds appropriately when you open and close it. Next, check the clutch. There shouldn't be any grinding or resistance when shifting between gears, so shift through every gear and make sure it's moving through them properly. Finally, brakes are probably the most important safety aspect on your motorcycle. You can inspect the brake discs, looking for grooves or indentations. If you notice any signs of damage, get your brakes serviced before taking your motorcycle on the road again.
By spending just a few minutes inspecting your Kawasaki or Yamaha before every ride, you'll prevent accidents, breakdowns, and serious mechanical issues on the road. We recommend making a checklist from this guide and add anything else you might think is necessary for safer operation. At Lucky Penny Cycles, we want every rider to get the most out of their motorcycle and stay safe, so feel free to ask us questions or bring your bike into our dealership when you find any serious issues. We're right here in Bedford, serving the areas of Dallas, Fort Worth, Waco, Sherman, Tyler, and Wichita Falls, TX.