Must-Have Motorcycle Commuter Accessories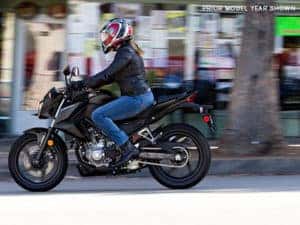 Commuting is rarely a highlight in our daily lives, and for many people, it's persistently one of the worst parts. But things are different when you're riding your own motorcycle. Commuting on a motorcycle is great because you can save money on gas while not contributing to the overall level of traffic congestion. It also gives you the chance to have an adrenaline-fueled ride to start your day as opposed to the same old boring car ride.
If you want to give motorcycle commuting a shot, there are a few things that will make it much easier. Read on to learn our recommendations for motorcycle commuter gear and stop by Lucky Penny Cycles if you're looking for the perfect commuting bike. We carry the latest models from many top manufacturers. Our Fort Worth, Texas location proudly serves the areas of Bedford, Waco, Wichita Falls, Sherman, and Tyler, Texas.
Full Body Riding Suit
If you're a commuter, one of the most helpful pieces of gear you can pick up is a full body riding suit. These suits give you seamless coverage of your whole body to help keep you protected from whatever weather conditions come along. On rainy days, you'll be able to withstand the chilling effect of the wind and the rain. When it's above 100 degrees outside, a full body suit will protect you from sunburn and windburn. As long as you keep yourself hydrated, you'll feel cooler than you would be by stripping down and wearing a T-shirt and shorts.
Neck Protection
When you ride your motorcycle enough, you'll start to realize how annoying it is to not have neck protection. If it's cold outside, the wind will make your neck extremely cold, extremely fast. Even something as simple as a bandana can help. A bandana can also help to keep yourself cool, too. When it's hot outside, simply soak your bandana in cool water. As the wind and heat evaporates the water, the bandana will pull heat from the surface of your skin which will help you to cool down rapidly. There are many types of windstopper and collar available, so do your research and find one suited for your riding style.
Windscreen
While some riders oppose the aesthetic qualities of a windscreen, the truth of the matter is that they're extremely helpful. A windscreen will divert wind and rain from you, allowing you to arrive at your destination in better condition. You'll also be less fatigued because you won't have to work so hard to keep yourself upright. During the wetter months, you'll find your windscreen to be invaluable.
Top-Side Box
A top-side box has a few advantages over saddlebags for motorcycle commuters. First of all, it helps to give you extra cargo space without making your bike wider, and that means you'll have an easier time navigating narrow traffic situations. Second, top-side boxes are often built to be locked and secured. The biggest benefit is that most models can fit an entire full face helmet, meaning you don't have to carry your helmet into the office.
Insulated Boots & Gloves
Having quality insulated boots and gloves is invaluable to commuters. This is one investment you don't want to go light on. Insulated boots will help protect your feet from the heat of your engine. Insulated gloves will help keep your hands warm and comfortable, and that means they'll be more dexterous and able to manipulate your bike's controls.
Stop by Lucky Penny Cycles for everything motorcycle related. We're located in Fort Worth, near Bedford, Waco, Wichita Falls, Sherman, and Tyler, Texas, and we'll proudly get you set up with everything you need!