Protecting Motorcycles from Theft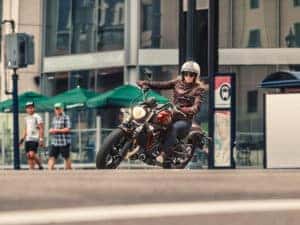 Like any valuable possession, motorcycles are very susceptible to theft. But there's something uniquely awful about losing your bike. You might have dreamt about owning a bike for a long time, and even if you didn't, your Yamaha or Kawasaki is more than just a valuable item. There's often passion and sincerity involved in the ownership of a motorcycle, so that's why it's so important to keep these vehicles safe from thieves. Thankfully, with just a little bit of common sense and preparation, you can easily protect your bike, and this guide from Lucky Penny Cycles will explain exactly what you need to do to guard these vehicles. If you have any other questions, or simply need a new bike, stop into our dealership anytime. We're in Bedford, where we serve customers from Dallas, Fort Worth, Waco, Wichita Falls, Sherman, and Tyler, TX.
Location and Neighborhood
For thieves, the location of a parked motorcycle matters tremendously. You might live in an isolated part of the countryside, where they could easily snag it from your driveway without anyone noticing. Apartment complexes are also common places for thefts to occur. With so many people and vehicles around, a thief has options. They have their choice of which motorcycle to steal, and it's oftentimes easy for them to pick one that's poorly secured and hidden from any security cameras. Not to mention, just because these areas are typically crowded doesn't mean a thief will worry about someone seeing them stealing something. Unless they're aware that it's your motorcycle, other people have no way of knowing whether the person mounting your bike is the owner taking it out for a ride, or a thief capitalizing on an easy target.
But even quiet, rural neighborhoods aren't entirely safe from theft. Most homeowners fall into complacency about motorcycle security, since they assume the region they live in rarely experiences crime, meaning that their bike shouldn't ever be a target. This complacency can easily get your prized possession stolen. Thieves often prey on nice neighborhoods like these, since they can often find nicer motorcycles and don't typically have to worry about security.
Pick Your Parking Spot Wisely
Because no neighborhood or parking lot is inherently safe from motorcycle theft, it's vital that you learn to properly park and store your Yamaha or Kawasaki. Leaving your bike right in your driveway is basically telling a thief to steal it, so if you own a house, you should try to park your bike in a more hidden location. Behind fences, in your backyard, or in the garage are ideal locations. When living in an apartment complex, you probably don't have these options, but you can at least put a cover over your bike while it sits exposed in the lot. Regardless of where you're able to park, you should still consider a few basic security measures.
Essential Security Devices
Many thieves won't even bother trying to snag your Kawasaki or Yamaha motorcycle if they see it's locked up. A disc lock will clamp the brakes so your wheels can't spin, meaning the bike is unrideable until you unlock them yourself. You can also lock up the handlebars with steering locks, which prevent your steering column from moving. And if you want to spend a little extra, you can resort to more complex security systems. While more expensive, these are definitely worth the cost. Tracking devices and alarm systems can provide peace of mind to any motorcycle owner. Finally, don't forget that thieves can still get into your saddlebags, even if your bike's locked up. We don't recommend keeping valuable items in these storage compartments, but if you must, put locks on them as well so you don't lose anything to theft.
Motorcycles mean a lot to their riders, which is why it's so necessary for you to protect yours from thieves. The safety tactics are pretty simple, and if you implement a few of these strategies, you can feel much better about the security of your motorcycle. Of course, if you don't have a bike yet, we've got a great selection of Kawasaki and Yamaha models right here at Lucky Penny Cycles, so come on into our dealership in Bedford, serving Dallas, Fort Worth, Waco, Wichita Falls, Sherman, and Tyler, TX.